One of the most popular styles of garage door is the sectional garage door. The beauty of this style of door is that it's versatile, customizable, and goes with just about every size, shape, and model of home. It can be painted, have windows added to it, and is a wonderful option for just about everybody.
At Factory Direct Garage Doors in Melbourne, we manufacture sectional garage doors direct and they're available in about a week (most manufacturers take a month!) so you're able to have your new door fast. Every door comes with a 10-year warranty, and is backed by over two decades of experience. Contact us today for a free quote.
When you're ready to buy a sectional garage door, you have some advantages in this style. Read on for more!
Colour
One of the most obvious and easiest ways to customize a garage door (and the look of your home overall) is with paint. Whether you decide to paint your door the same colour as the main hue of your home or go with an accent or contrasting shade, you can make a statement. While your new garage door shouldn't require a fresh coat of paint for many years, if you decide to give your entire home a facelift and need the door to match it, it's easy to do. Factory Direct Garage Doors offers the full range of Colorbond shades, but we can also use custom blending technology to match the colour you're looking for.
Windows
If you'd like to bring some natural light into your garage or take your doors to the next level of stunning, windows are the way to go. They are perfect for sectional and timber doors. You can add the elegance of decorative beveled glass, bring in a modern look with clean lines, or go for something truly unique with interesting shapes. Whatever your preference, we can surely come up with something that brings an element of "you" into the look of your home.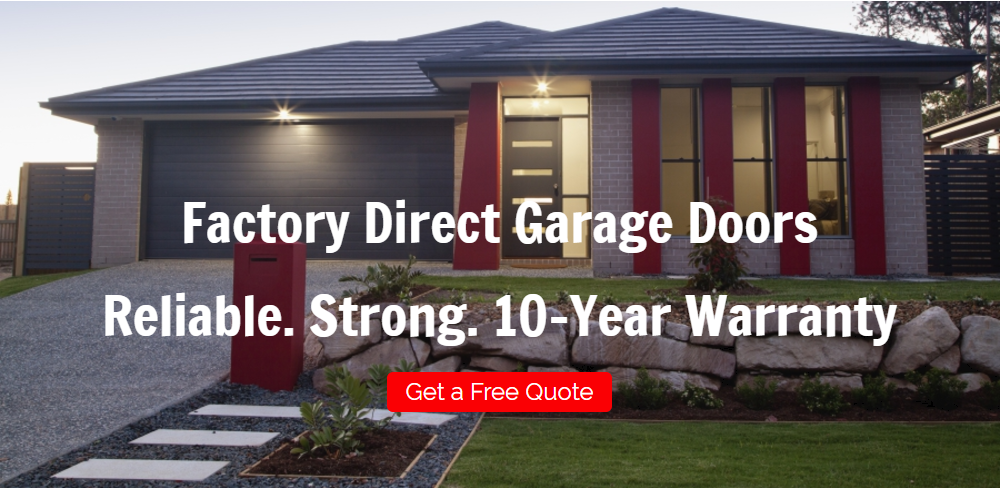 Safety
One of the biggest concerns for your home is safety. If you have small children, rest assured that with sectional garage doors they'll be safe with the features built in to the door and the opener. Our doors have "finger proof" panels to take your doors to a higher level of safety, as well. And when it comes to the security of your home, sectional doors are built to keep your home locked tight. Read this article about extra steps you can take to keep your home safe from intruders and break-ins.
Insulation
The insulation in sectional doors keeps your interior space cool in the heat. It also reduces noise from the wind, and won't allow gusts to blow inside your garage. Now you can work on projects throughout the year, and know that when you come back to them, everything will be just where you left it.
Factory Direct Garage Doors is your custom door manufacturer. Buy your garage doors direct from the source, reducing time and costs. When you're looking for sectional garage doors in Melbourne, we provide you with the best doors and the best service, all backed by a 10-year warranty. Contact us today for your free quote!